I had the opportunity to attend the 2009 BET Awards show, and was so excited that I would actually be a part of the M.J. tribute. I've heard several people say they didnt enjoy the show. I'm not sure if it was because I was lucky enough to be in the building but I LOVED IT! It was an amazing feeling to be surrounded by so much BEAUTY, TALENT, AND MONEY!! OMG!! Anywho, let me give you my prospective (from an $800 seat) of the show LOL!!

First... lets see some of who was in the building and what they were wearing!! I was kinda hot bout the fact that I didnt have anything special on being that I didnt actually think I was attending the show, ya'll would trip if you heard that full story!! Let's just say I got off like "A Smooth Criminal" in my M.J. voice LOL.



**LaLa looked cute, per usual. She partied at Union Station after the show.. I was in the building and managed to cop a half ass candid pic LOL.. I'll post later**



**Alicia walked past me at the show.. Still havent seen the awards on TV so IDK what she looked like to ya'll... but in person, she was FLAWLESS!!**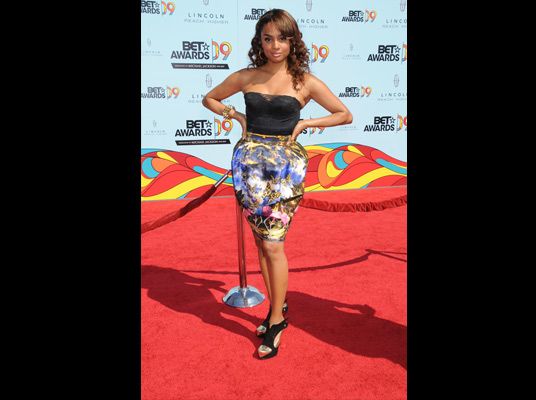 **Alicia Renee looked pretty also. We were eating @ Jeri's Deli before the club and she came in and greeted the table with "hey black people".. she seems like a really sweet person. I thought it was so funny that one of her friends asked this table full of white people if she could taste their fries ROFL!! Alicia was so embarrased and tickled to death LOL.. It was all in good fun tho!!**



**Amarie was in there, dressed like Kanye's girl Amber Rose! They had on the same dress. Amarie was boo'd up wit some guy @ Diddy's party Saturday night (BOMB PARTY BTW)! Couldnt make out who the guy was, but they looked oh so smitten w/ one another!!**



**Bey ROCKED this dress. TV sure does put 10 lbs on, cuz she looked like she did during her Dream Girls filiming. She was so beautiful and during one of the commercial breaks she walked out the auditorium w/ cuzzin Angie dancing to "Stanky Leg" LOL!!**



**Memphis' own Elise Neal was in the building.. its an okay outfit I guess.. but damn, was she like me and didnt know she was going? ROFL.. She looked better Saturday night @ Diddy's party!**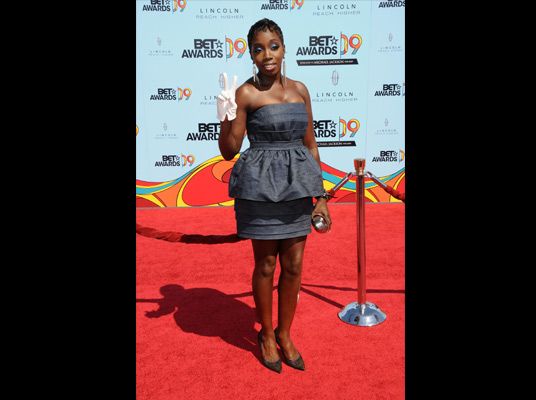 **Estelle (along wit many others) rocked the M.J. glove! I saw her several times during the wkend at the SLS hotel (BEAUTIFUL BTW).. she looked really cute each time I saw her..**



**These ladies (minus Candy) hit up Jeri's Deli also! Oh, but Candi WAS on my flt from LAX-ATL that scared the hell out of everybody. DURING takeoff the freaking engine went out!! DELTA SUCKS MUSTY BALLS! We didnt get into the A until after midnight!! I thought they all looked cute but Sheree could've done something else with that hair, and that dress is saying something strange to me right now ROFL!!**



**KeKe Palmer, I just LOVE this young lady!! She's always carpet ready, and more importantly, always dressed AGE APPROPRIATE!! And who knew she could sing like that?**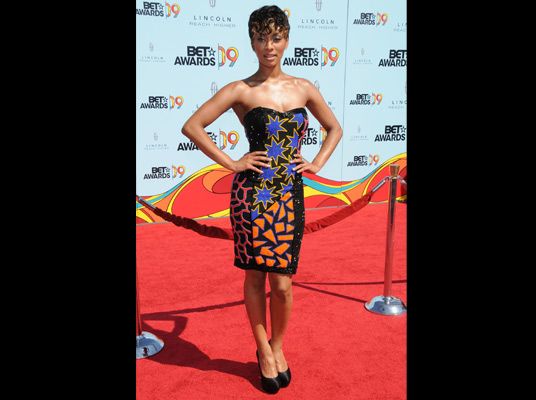 **Miss Keri Baby, is always on point if you ask me!! Loved this dress!! She partied @ Union Station later that night also!!**



**Latoya Luckett is such a pretty girl. I liked her look, but I couldve sworn I saw her in a couple outfits during the show LOL. Do it big then Toya.. She really does it big, cuz I saw her out and about EVERYDAY that I was in LA!!



**Lil Bobby is too cute and LITTLE than a MF ROFL.. I didnt expect him to be THAT small. And his momma is bout an inch taller than him!! Really, the whole family is about 5'7 combined ROFL!!**



**Meagan Goode lots of times is a hit or miss.. I like the dress, woulda done different shoes tho!! And I would appreciate a smile every now and again!!**



**Monica looked amazing! When she walked by I was shocked at how LONG AND SLIM she was.. but she wears her small frame well.



*Toccara so could have done better. Just like w/ Elise, she looked better Saturday night at Diddy's party. BTW, My House rocked M.J. for about an HOUR straight.. The club was extra hype. Toccara almost knocked me down getting her M.J. on when Beat It came on LOL. Again I say, BOMB ass party.. I got to actually MEET Queen Latifah, and she is so much smaller than I thought. She had on those American Apparel tights w/ the slits down the side.. AND LOOKED CUTE ROCKING EM!!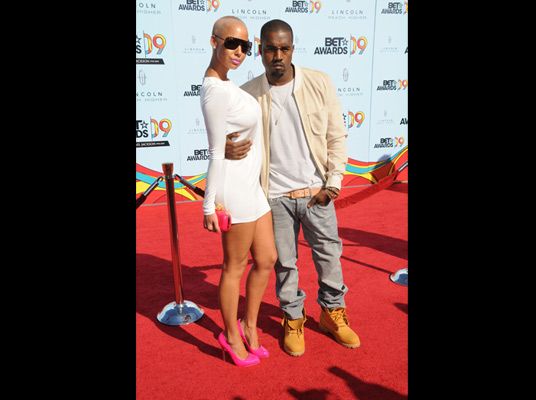 **See, same dress, (As Amarie) different looks.. I'll try to find a pic of the back of the dress.. It was really low cute.. CUTENESS! Guess thats why she didnt rock a bra with it. Kanye woulda had to have come up with SOMETHING cuz uhhh those areola's were huge and I could see em looking at me ROFL!!


Okay.. this is all for right now!! This post is gettin extra long so I'll come back later!! I'll be posting what I thought about the performances and the view little candid pics I was able to snap. It's hard trying to get pics of celebs when they're partying. I know I HATE that ish when folks do it to me, so I was kinda hesistant.. Otay.. more after the break/get off work LOL!!

**Pics in this post found @ BET.com**